Our Values
The most accurate descriptor of our people is that we are real and authentic. In much the same way that we do not dress up for church, we also do not "pretty up" what we are feeling and experiencing.  On any given Sunday, you will find a range of emotions on display: joy, anguish, reverence, passion, grief, peace . . . We believe that God is big enough to handle our doubts, our questions, and the wide range of emotions He gave us.  The theme of "come as you are" applies not just to what we wear in the morning, but also in how life has impacted us over the course of the previous week.  Many members of our family have found sanctuary at Crossroads after scarring experiences at churches where authenticity was not commonly practiced or where politics infiltrated the sacred space of fellowship.
We use the word REAL as an acronym for our four primary values.
Responsive: our church is responsive and sensitive to the needs of those within our fellowship, in our community, and around the world.  We empower and support people as God gives them a vision and a passion for meeting various needs.  In this way, we strive to be a "bottom-up" church and so honor how God gives direction to individuals.
Engaged: our fellowship is engaged with Scripture, and we seek to apply its wisdom, exhortation, and encouragement to our daily living.  We are also engaged in fellowship and discipleship. We believe in small groups and the relational strength and intimacy we gain in meeting together
Accepting: Crossroads eagerly embraces anyone who walks through our doors. Our fellowship represents a broad spectrum of political persuasions, philosophies, life experiences, and status.   The dialogue at Crossroads can be robust, but it is always conducted with humility and respect.  We accept and honor those who do not look like, live like, or think like we do.  We seek to live in accordance with Jesus' economy: we seek to build up, not to tear down.  We strive to serve, submit, and love.
Loved: We believe this is the core value of the Christian life. Opening ourselves to the love of God, embracing His grace and forgiveness, and following the leading and empowering of the Holy Spirit is paramount and foundational to every other value in our lives. We confess that God is love, that we love because He first loved us, and that we know love because Jesus laid down His life for us.  It is only because we are loved that we can then love and serve others.
Throughout the life of our church, we have also placed great importance on diversity, excellence, creativity, transformation, and multiplication.
Our Vision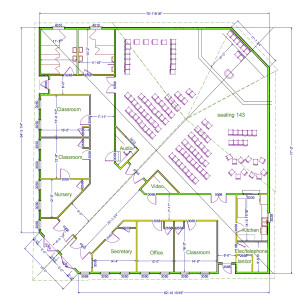 In order to better meet the growing needs of our congregation and community, we have purchased seven acres of land just east of Zion Crossroads in Louisa County.  We are in the beginning stages of constructing a permanent home for Crossroads Community Church that will accommodate our Sunday gatherings, children's ministry, youth ministry, offices, and provide our community and civic organizations a meeting space during the week.  As the Zion Crossroads area continues to grow, our church is prepared to share the light and love of Christ for years to come.